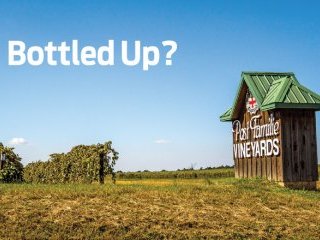 Viticulture Technician
Company Name: Duckhorn Wine Comapny
Job Location: Napa
State / County: CA
Country: USA
VIP till: 2014-12-11 06:42:24
Posted on: Dec 10, 2014
Job Details


Honored as a 2014 North Bay Business Journal "Best Place to Work," Duckhorn Wine Company has helped set the standard for American fine wine for almost four decades. Founded with the launch of Duckhorn Vineyards in 1976, the Duckhorn Portfolio has evolved to include Goldeneye, Paraduxx, Migration, Decoy and Canvasback, and features a unique structure that includes six dedicated winemakers. Combining more than 600 acres of acclaimed estate vineyards in California's Napa Valley, Sonoma County, Anderson Valley and Washington State's Red Mountain, with grapes from the finest growers, each winery has its own focused winegrowing program from which to make its wines. Duckhorn Wine Company wines are available throughout the United States, on five continents, and in more than 45 countries.



OBJECTIVE: The goal of this position to provide general viticultural support, focusing in the areas of scouting and data collection, to the Duckhorn Wine Company (DWC) Estate Vineyard Portfolio in Napa, Sonoma, and Mendocino counties.



ESSENTIAL DUTIES AND RESPONSIBILITIES:

• Assist in management of viticultural databases; AgCode and Fruition Sciences, as well as spreadsheets.

• Field Scouting for common vineyard pests, disease, and nutrient issues, as well as reporting on progress of work and phenology

• Harvest duties including support to vineyard crew in picking and delivery of fruit. May require the operation of large trucks and vineyard equipment.

• Oversight of crop estimation protocols – cluster counts, weights, entry, and reporting

• Supervise Harvest Sampling Team

• Responsible for data input and organization using field sheets and templates, and creation of reports as needed

• Phenological data collection, entry, and management

• Seasonal Vineyard Trials – Design, execution, data collection and correlation

• Tasks in support of irrigation – pressure bomb readings, etc.

• Grower support as needed

• Special projects as assigned



CERTIFICATES, LICENSES, REGISTRATIONS

• Valid California Driver's License and clean DMV record required.



QUALIFICATION REQUIREMENTS:

• Some Viticulture or Enology coursework

• Excellent computer skills to include Excel, Word, Access

• Bi-lingual a plus

• Must have a clean driving record and valid California driver's license



Duckhorn Wine Company offers a highly competitive and comprehensive compensation and benefits package. Please respond with resume, letter of introduction and salary.